Yes! There are 2 ways for Teams to use RocketReach.
1. RocketReach now has the ability to link multiple accounts for centralized billing purposes under one Team ID! 
Choose an email address that will act as the Admin account and handle billing for all other accounts on the team (this can be a free account).
Have each Team Member create a Free RocketReach account that will later be upgraded to a paid subscription and linked centrally.
Contact support@rocketreach.co with your admin account email address and your list of Team Account Email Addresses and which plan* you would like to upgrade each to. *Plans may vary between accounts. Centralized billing is available for Bronze accounts or higher.
A RocketReach representative will Create a Team ID for you, link all accounts to the Admin account, and send 1 PO to the Admin for the 1st month total.
Once processed each account will renew automatically every month just like our individual accounts to prevent any service interruption!
2. RocketReach accounts can be shared by up to 5 people simultaneously.
If your Team is more than 5 people please contact us for linking options.
All of the team members use the same email address and password to access the account.
Contact lookups in the account are shared on a first use basis.
The account can be accessed from multiple computers simultaneously.
Team members can create their own Contact List in the account to save their contacts to. 
To Create a New Contact List for a Team Member:
1. Go to the 'My Contacts' Tab then click the 'Create new list' button. 

2. Give your list a name and click 'Ok'.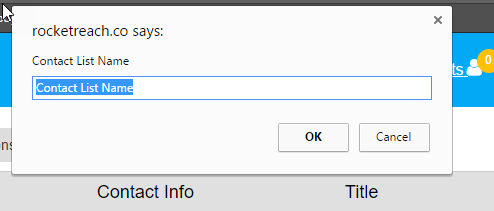 Your list will now appear in the 'My Contacts' list section on the left of the screen. The account will remember the last list used on your computer and select that list as default the next time as well.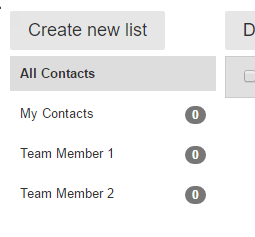 You can also select a list to save a contact to manually by using the List Selection Drop Down Menu on the Search page.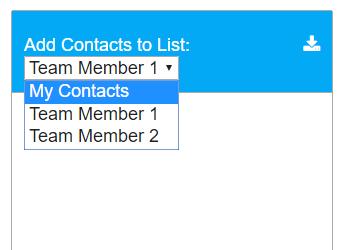 Team Demos are available by request.