People List Generation
RocketReach does not sell lists, instead, RocketReach provides you with a custom tool that allows you to create your own custom contact lists from scratch.
Our Filtered Search & List Generation features will allow you to filter the type of contacts you are looking for and generate a contact list in just a few easy steps, with two ways to do it.
📑Contents in this article - click to jump to section:
Bulk Add from a Current Search
To generate a list of contacts, start by applying your desired parameters on the people search page.
Step 1: Create Advanced Search
Using our Advanced Search Filters, you can zero in on the most relevant contacts by setting criteria, or characteristics, for the people you'd like to connect with. To do this you will visit the Search Page on the RocketReach web app:
✅ Pro Tip: Try to use at least 3 filters to make your search targeted and highly relevant!
In the example below, I am interested in looking for Operations Managers for companies in the construction industry, located in New York, NY.

Example Search Filters Used:
Location = Dallas, TX, US
Job Title > Department = HR
Industry = Banking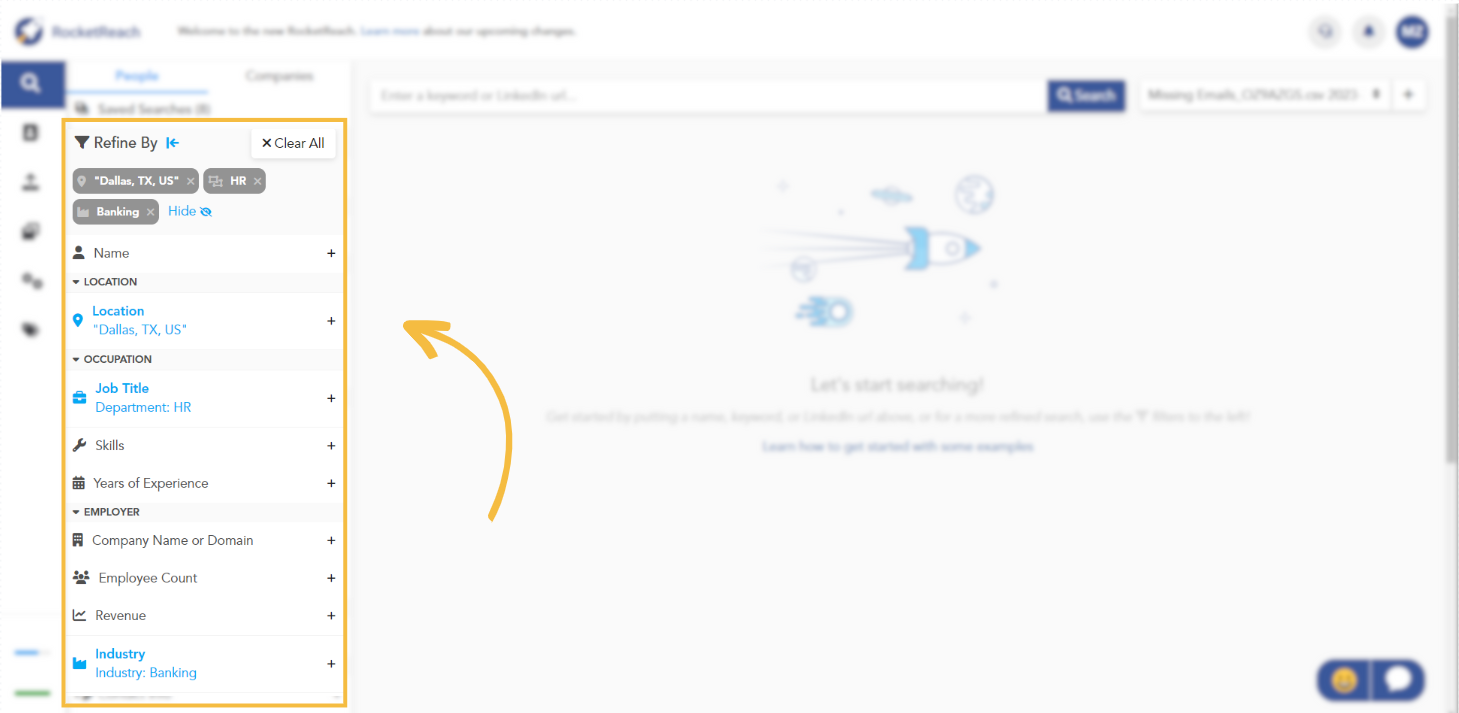 Step 2: Select 'Bulk Add'
Once you have created your desired search using the Advanced Search Filters, you can add any number of contacts from that search by selecting 'Bulk Add' at the top of the results pane:
Step 3: Set Desired Parameters
Before performing a Bulk lookup and adding the entire search list to your contacts, you will be able to set your desired list and lookup parameters and preview a sample of the list you are about to create.
In the window, fill out the fields according to your preferences:
Set how many contacts you would like to receive at this time from the results of your search criteria. (The minimum list amount is 50 contacts. Selecting "Add Max" will fill the number of lookup credits you have remaining at the time of the search, or up to 10,000.)


Provide a unique List Name for this set of contacts.


(Optional) If appropriate, set a cap for how many contacts can be provided for each company.


(Optional) Choose to include or exclude unverified contact data.

(Optional) Choose to include or exclude previously looked-up contacts in the list.
(You will never be double-charged for the same contact).
Step 4: Select '+Add Contacts'
Now that you have set your list parameters, you can create your contact list from your search!
Click +Add Contacts to begin the lookup.
Step 5: View Contacts / Download Results
Please allow a few minutes for your contacts to be searched and validated. You can close the window or select "Go to My List" to see all the contacts as they are found.
Your New List will automatically generate on your My Lists page under the list name you used in step 3.
Helpful Hint: From here, you can Export Contacts to a CSV file
How to Generate a List from a Saved Search
Step 1: Create a Search
Please refer to the information above. (Jump to Section)
Step 2: Save this Search
Once you have created your desired search using the filters, you can save it to easily reference anytime.

To save your search, click 'Save this Search' located to the right of the search result numbers. This will prompt you to create a unique name for your Saved Search:

Step 3: Access Saved Searches
From the search page, you can revisit any saved search by clicking the 'Saved Searches' header on the top left, then selecting the desired saved search:
Selecting a saved search will populate the filters with all the settings that were previously used; the search results will automatically update to reflect profiles that currently match the search filters. To create a list of contacts, repeat steps 2-5 in the "Bulk Add" instructions above. (Jump to Section)
Choose Specific Contacts and Download as a List
Step 1: Create a Contact List
From the search page, look in the top right corner for the list selector area. To create a new list, click the '+' button:

Then type the name for the new list and click the '✓' button to save the new list:

Step 2: Add Contacts to the Contact List
Make sure the appropriate list is selected, then use the 'Get Contact Info' button to lookup desired contacts:


The new contact will automatically add to the selected list:


You can also move contacts to a different list or copy contacts to multiple lists from the My Lists area by selecting the checkbox to the left of the appropriate contact:

Step 3: Download the Contact List
Once you are satisfied with your list, you can download all the details of the contact list to a CSV spreadsheet file. *Note for Enterprise users: Downloading a verified contact for the first time will consume export credits. Learn More »
Use the left-hand menu to navigate to 'My Lists' then find and select the desired list. To download the CSV, click the 'Download List' button in the top right corner:


To learn more about other ways to look up contact information in bulk or create contact lists, visit our bulk lookup help article: Can I Lookup Emails In Bulk?