RocketReach does not sell lists, instead, RocketReach provides you a custom tool that allows you to create your own custom contact lists from scratch.
Our Advanced Search & List Generation features will allow you to filter the type of contacts you are looking for and generate a contact list in just a few easy steps.


People List Generation
How to Perform
Step 1: Create your Search
With our Advanced Search feature, you may filter contacts with multiple search facets. To do this you will visit the Search Page on the RocketReach web-app: https://rocketreach.co/search
Advanced Search Filters include:
Contact Name
Geographical Location
Occupation Details
> Job Title
> Job Skills
> Years of Job Experience
Employer Details
> Company Name or Domain
> Company Employee Count
> Annual Revenue
> Industry
Education Details
> Major
> School
> Degree Type
Contact Info (email/phone)
Social Links (LinkedIn URL/Twitter Handle)
Keywords
You may use our Advanced Search to locate contact information based on the search facets you are interested in. In the example below, I am interested in looking for Operations Managers for companies in the construction industry, located in New York, NY.


Advanced Search Filters Used:
Location = New York, NY, US
Job Title = Operations Manager
Industry = Construction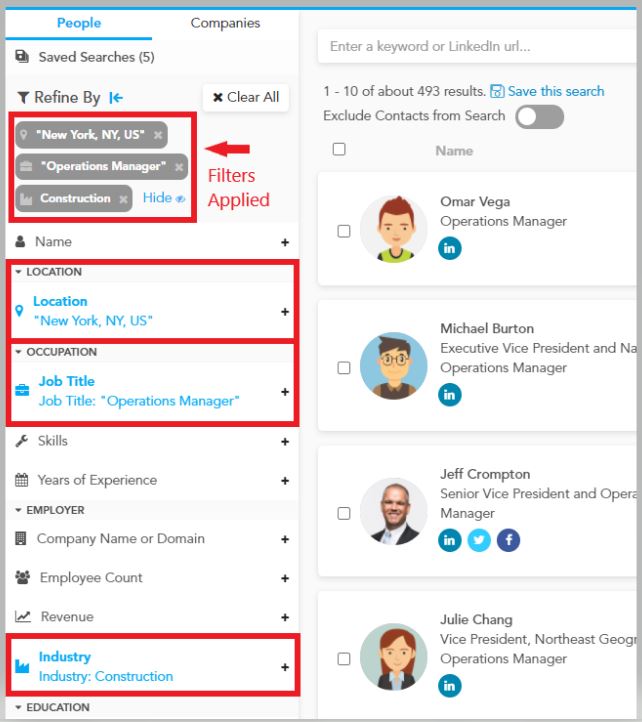 Step 2: Save your Search
Once you have created your desired search using the Advanced Search Filters, you will simply save your search to your account.

>> To save your search, click 'Save this Search' located to the right of the search result numbers <<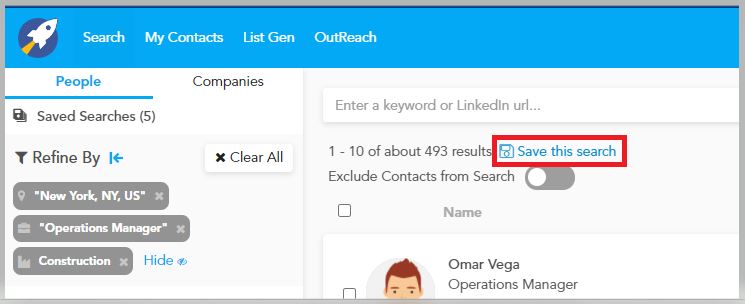 >> All saved searches will be found in your 'Saved Search' folder on your Advanced Search Page. <<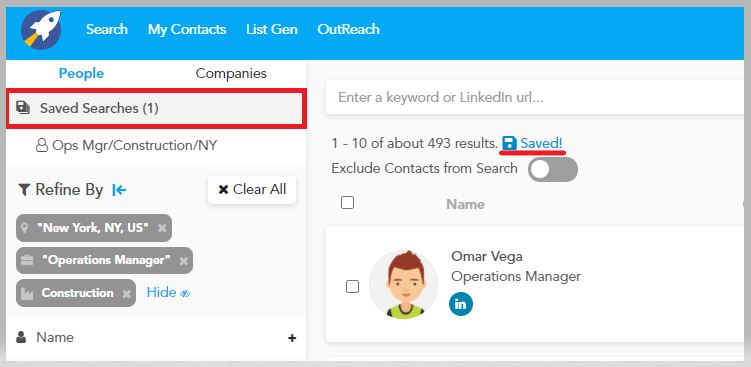 Step 3: Generate a List
You can generate a list of contacts from your Saved Search in two different ways.

Option 1: Simply click the 'carrot icon' to the left of the saved search and select 'Generate List'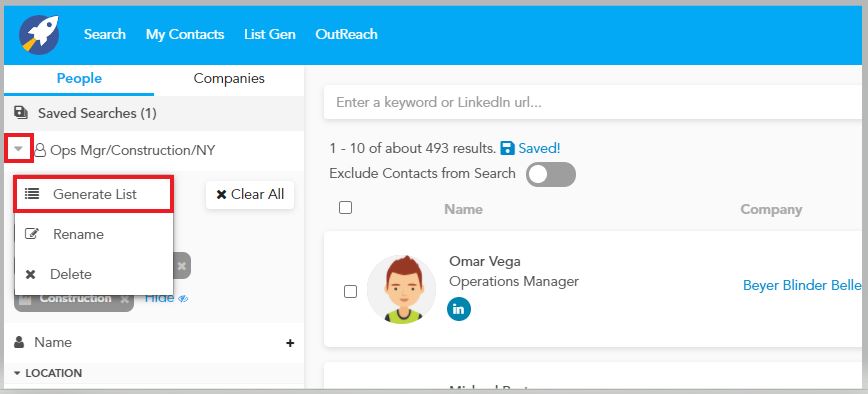 Option 2: Click 'Export Contacts' on the top right of your People Search to begin our List Generation.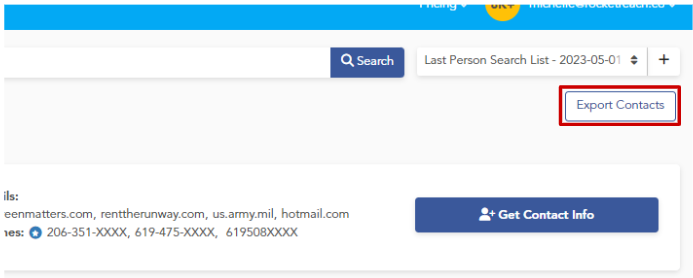 When you generate a list from a saved search you will be taken directly to your list generation page on your account. Here, you will review the saved search and the filters applied before beginning the list generation process.

>> Once you have confirmed the correct saved search is selected, you will select 'Next Step' <<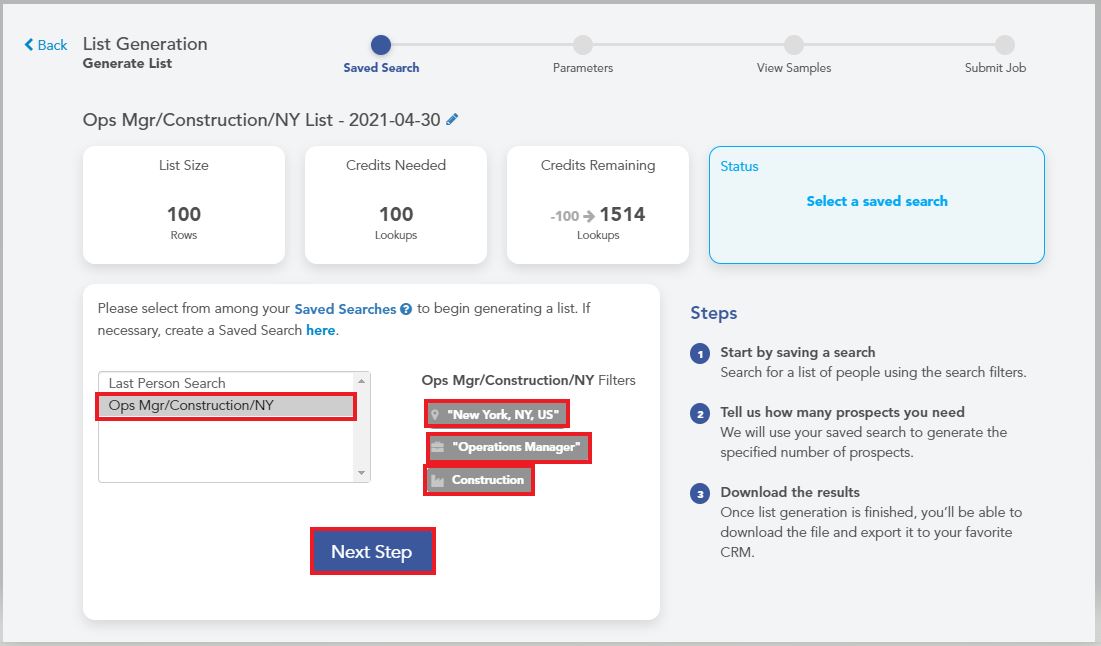 Step 4: Set your Desired Parameters
Before performing a lookup, you will be able to set your desired list and lookup parameters and preview a sample of the list you are about to create.
Determine how many contacts you would like to look up at one time based on your search criteria. (the minimum list amount is 100 contacts and the max will be the number of lookup credits you have remaining at the time of the search)


Determine the maximum number of contacts you want for each company.


Choose to include or exclude previous looked-up contacts in the list
(in any case, you will never be double charged for a single contact).


Preview Samples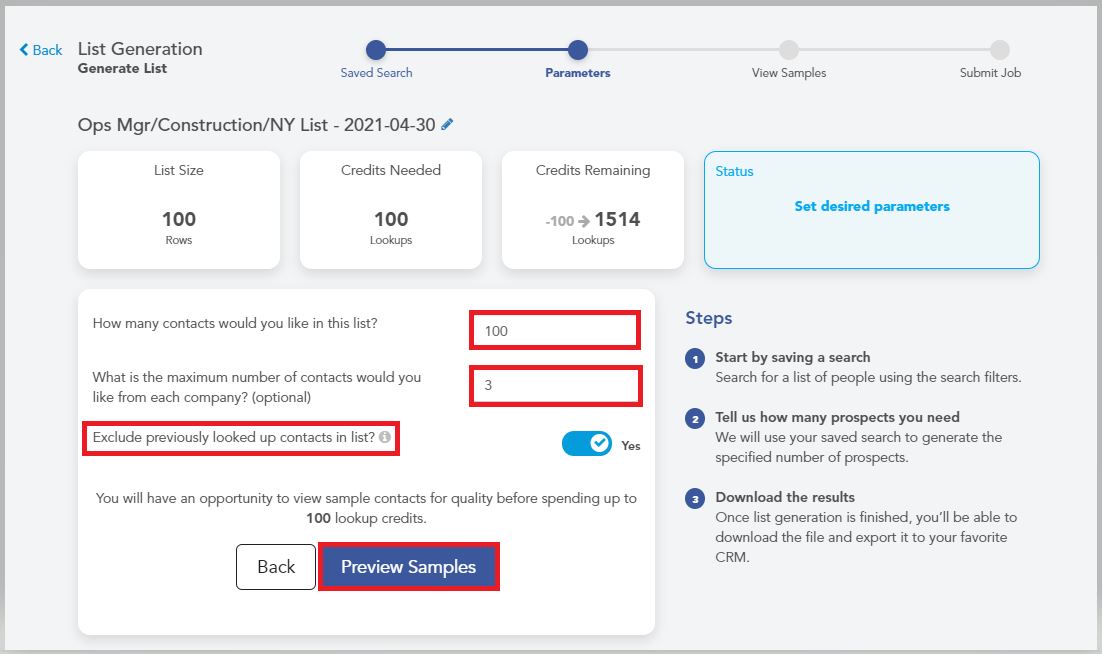 Step 5: Preview Samples & Confirm + Start Job
Once you have set your list parameters, you can now preview a sample of your list and start the lookup.

>> Click Generate List to begin the lookup. <<



Step 6: View Contacts / Download Results
Once the system processes the lookups and verifies the contact data, you will be able to view your custom contact list from your contact's page or download your list to a CSV file.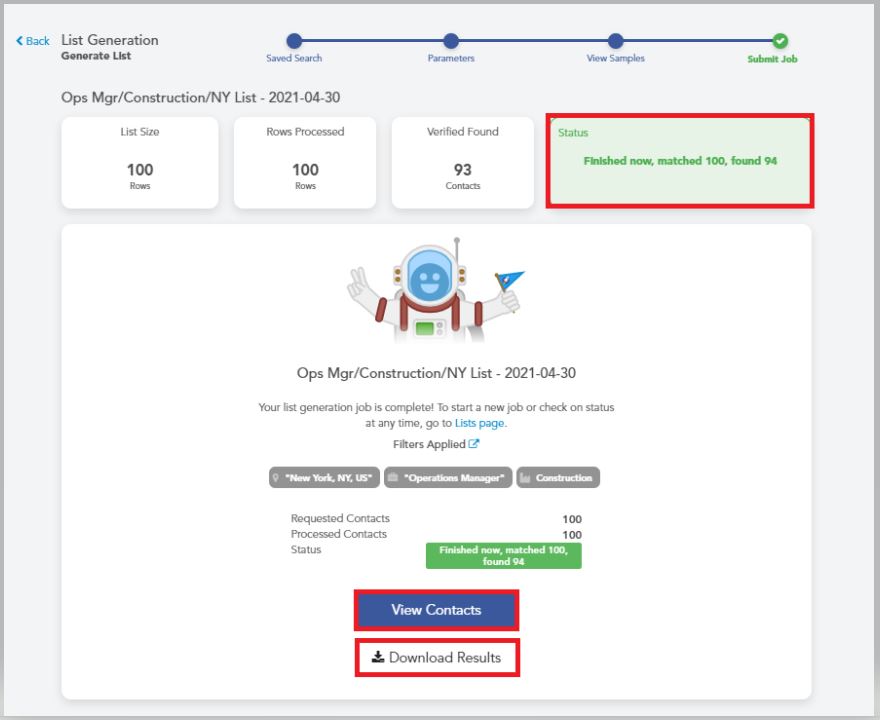 To learn more about other ways to look up contact information in bulk or create contact lists, visit our bulk lookup help article: Can I Lookup Emails In Bulk?