Congrats! You've made your first lookup!
Now here's a look at what the status indicators mean, and how you can get the most out of the features to the right of each contact entry.

Email Contact Icons

- verified email
- most likely valid, but we're unable to verify inbox

- email is bad and should not be used
Phone Number Icons
(note: only available when subscribed to a +Phone plan)

- Personal phone

- Mobile phone

- Corporate Phone

- Fax
Action Bar
The actions bar appears when contact data is hovered (or tapped on mobile). Here's what each button on the action bar does.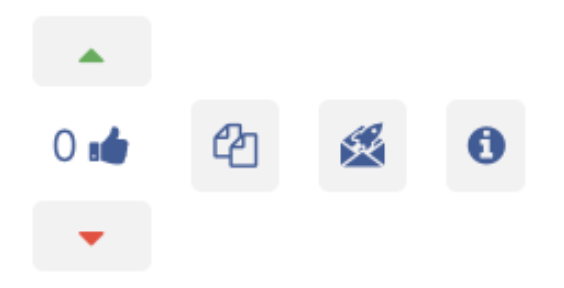 - The UserScore shows what previous users have thought of the highlighted contact entry. Use the upvote and downvote buttons to help the RocketReach community!

- Copy the selected data to your clipboard.
- Use our built-in email campaign manager, Compose, to email the selected contact right from RocketReach!

- Shows more detailed information about the entry.
As a friendly reminder, RocketReach only charges a lookup credit when the contact results provided is verified data. If the contact does not provide any verified data, then the credit used to perform the lookup is refunded back to your account.