Using Contact Information
Count on the most up-to-date information when you use RocketReach. Real-time search and validation when you click "Get Contact" in the web-app or "Add+" in the browser extension ensures lookup credits are used only when you receive verified email addresses and phone numbers.
To maximize your use of this powerful data validation, be sure to understand the icons, indicators, and options – this article will teach you everything you need to know!
In this article - click to jump to section:

---
Email Contact Icons

Email addresses are tested and scored in multiple steps to help you focus on the best contact information. Keep an eye out for these tags, which indicate our best recommendations for a successful connection:
Best Professional - This is a top-scoring business email address
Best Personal - This is a top-scoring personal email address
Did you know you can control what types of emails you receive and use credits on? It's quick and easy! See how »


Color Coded with Letter Grades
| | |
| --- | --- |
| | Best: Multiple tests confirm this is a working inbox. |
| | Likely: Tests and modeling indicate it's likely your email will be delivered. |
| | Possible: Worth trying, especially if better options are not available. |
NEW! We've added an additional layer of specificity by giving each email address a letter grade that reflects the projected rate of successful delivery.
Your specific delivery rate will depend on several factors. To improve the chances your email is delivered and seen, please see our recommended guidance and best practices: Coming Soon!
Focus on the green email addresses, as they scored the highest in our multi-step review process. Most users experience about 90% successful delivery.
If a green email address isn't available, yellow email addresses are also usable when sending 1-to-1 emails and for small campaigns. Deliverability rates will vary.
Any email that we confirmed is invalid (such as emails for past work experiences) has been hidden to provide the best experience.
💡 Reminder: Lookup credits are used only when you receive at least one verified contact (indicated by a green icon).
---
Phone Number Icons
(Note: Phone numbers are provided only when subscribed to a +Phone plan)

- Mobile phone

- Personal phone

- Corporate phone

- Fax
Icons shown in green indicate that we have verified this is a currently working phone number. In some cases real-time verification is not available, and the icon will be shown in black.
💡 Reminder: Lookup credits are used only when you receive at least one verified contact (indicated by a green icon).
---
Action Bar
The actions bar appears when contact data is hovered (or tapped on mobile). Here's what each button on the action bar does.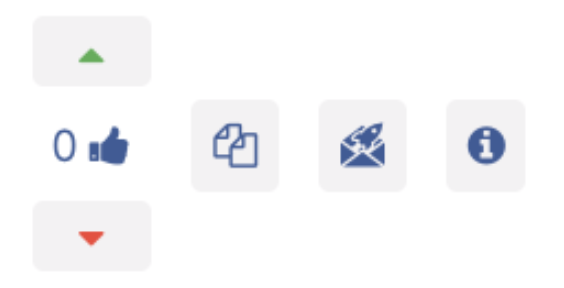 - The UserScore shows what previous users have thought of the highlighted contact entry. Use the upvote and downvote buttons to help the RocketReach community!

- Copy the selected data to your clipboard.

- Opens your default email app.

- Shows more detailed information about the entry.
---
As a friendly reminder, RocketReach charges a lookup credit only when we provide verified data. If the contact does not include any verified data, then the credit used to perform the lookup is refunded back to your account.
You May Also Like:
Control What Types of Email Addresses You Receive