A RocketReach Team account allows 2 or more individual paid RocketReach Subscriptions to be linked together for centralized billing and account management purposes. 
Team accounts consist of 2 or more Seats.
Each Seat is linked to 1 Individual Paid RocketReach Subscription. 
Seats can be re-assigned to different accounts as needed.
For linked accounts, if multiple team members look up the SAME contact, a credit will only be applied for the first lookup. The subsequent lookup results will appear without any additional lookup credits being used for all other linked team members.
Please note that linking individual accounts under a Team Account does not enable sharing of lookup credits. Lookup credit counts remain individual to each account/seat.
The Team Admin (Team Owner) will be able to manage payments and billing information for all linked accounts, view usage for all accounts, and add/change/reassign/remove seats as needed. (SEE Team Account Management - Admin. Guide for full details.)
(If you are not sure what the best plan option for your team is please contact us at support@rocketreach.co and we are happy to assist!
*Please include the number of team members you have and approx. number of monthly lookups will be needed each/month.)
 
CREATE YOUR TEAM ACCOUNT IN 5 SIMPLE STEPS:
1. Log Into Your RocketReach account.
2. Click on the 'Account' Tab --> 'Team Plan' section.
The person who creates the Team using their account will be the Team Admin (Team Owner). The Team Owner seat and 2nd seat are added by default, but the plan selection can be changed using the action menu. Note: The team will not be active until you complete the setup process and click 'Start Team' to purchase the subscription.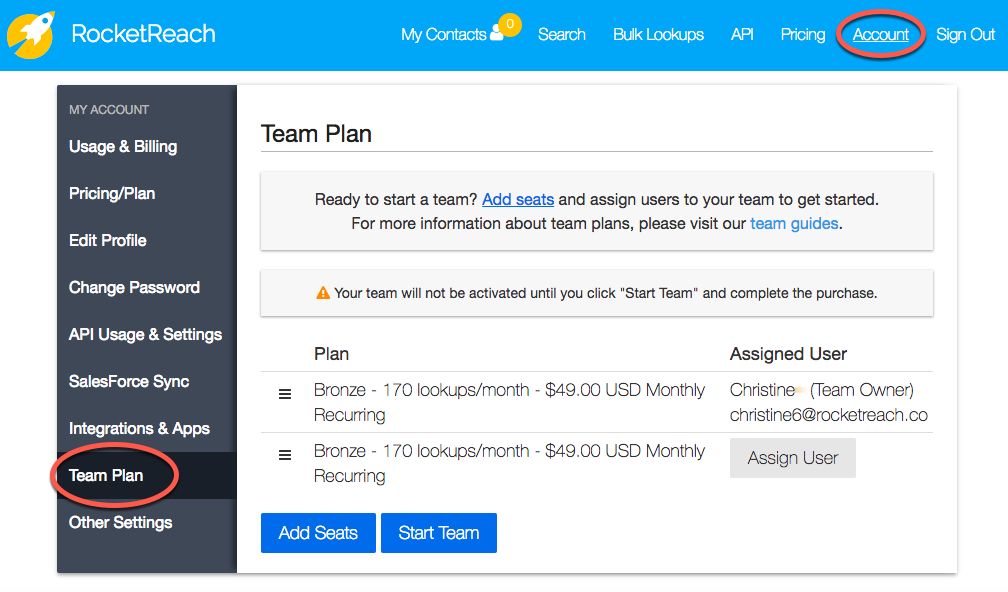 3. ADD SEATS
Click the 'Add Seats' button to add additional seats as needed.

Select the 'Plan' and 'Qty' for the seat(s) and click 'Add Seats'.
If multiple seats at different plan levels are needed, repeat this step for each seat.
Clicking 'Add Seats' will bring you back to the Team Management Page.
You will see the new seat(s) added to your list, ready for assignment.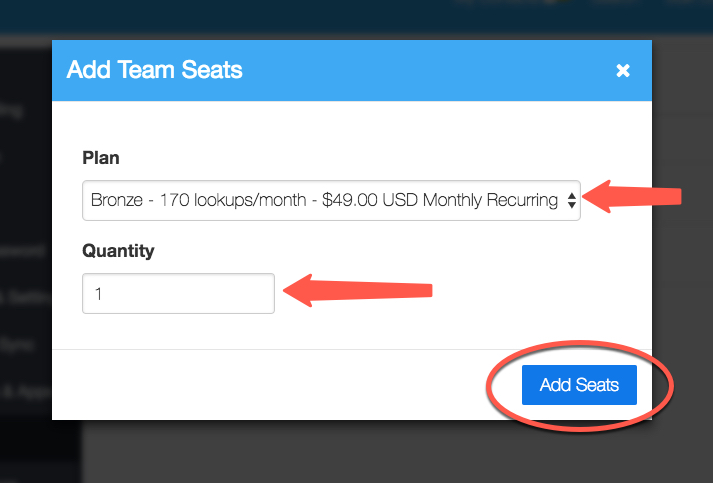 4. ASSIGN Seats :
Click the 'Assign User' Button for the Seat you want to assign.
Enter in the email address for the team member you would like to add to that seat.
Click Assign.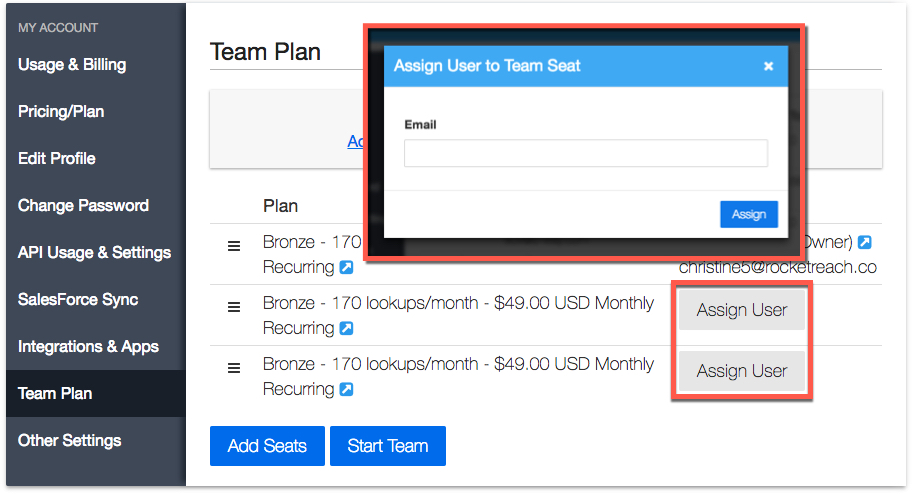 5. START TEAM And PURCHASE
You do not have to assign all of your seats prior to starting your team/purchasing, but starting your team does begin your subscription for all seats.
The Team Account will not be active until you click the 'Start Team' button and complete the subscription purchase.
Click 'Start Team' (Clicking Start Team will trigger 'Join the Team' email invites to go out to your team members- see Note below for details).
Review Seat Qty and Total Monthly Amount and Click 'Purchase'
Follow steps to add your credit card information and complete your purchase.
You will be charged for your team's first month (or year if selecting annual plans-please email support@rocketreach.co for this option).

Your Team accounts will renew automatically monthly thereafter. 
If Additional Lookups are enabled any Additional Lookups used will be charged at $0.30/additional lookup and billed on each monthly renewal date.
The Admin can disable Additional Lookups for all team accounts if needed from the 'Usage & Billing' section.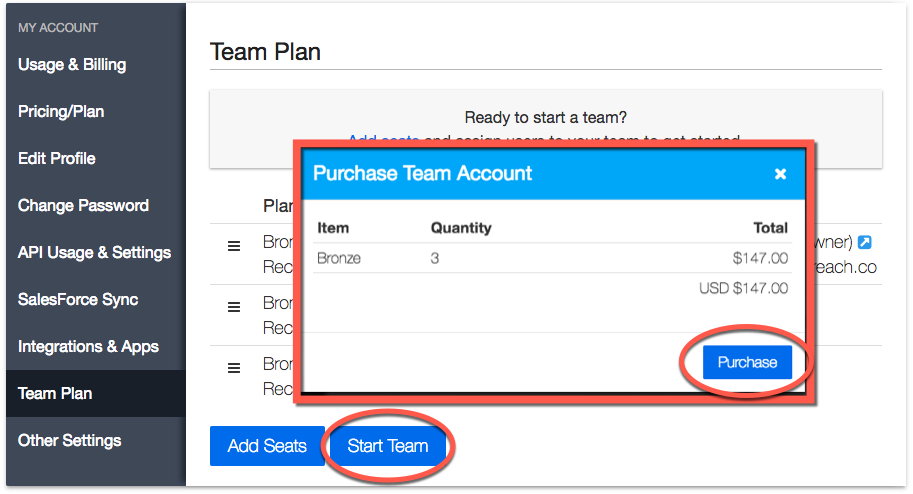 NOTE:
When you click the 'Start Team' button, prior to purchase, any assigned Team Members will receive an Email Invite with steps to 'Join the Team' or 'Create an Account' and then 'Join the Team' (if they haven't created a RocketReach account login yet).
You can resend the invites later if needed using the 'Action' menu next to each assigned seat.

 EXAMPLE OF EMAIL INVITE: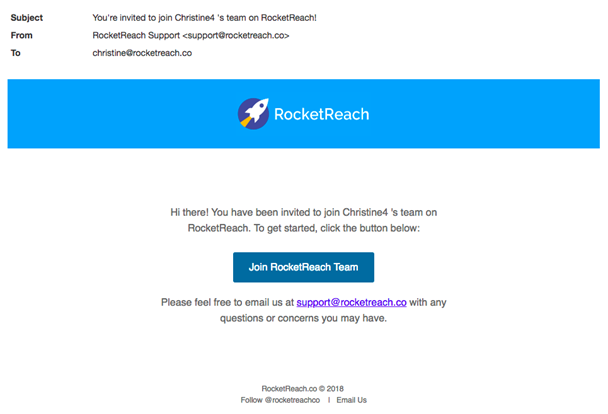 Please email support@rocketreach.co with questions or for assistance. Thank you!
PLEASE SEE OUR 'Team Account Management - Admin. Guide' for full Team Management feature information.