Need to find email addresses for specific prospects in bulk? The RocketReach Person Bulk Lookups feature makes this easy.

To perform bulk lookups simply visit https://rocketreach.co/lists/person/upload-csv and upload your data with a CSV file.
Person CSV Bulk Lookup
How to Perform
Step 1: Create your CSV file
A CSV file can be created in either Google Sheets or in Excel.
Download our

sample CSV file to see how to format your file
See below for a list of Required Data needed to perform a bulk lookup.
The CSV file must have a column header row including one or more of the following data sets:
first and last names and the company name the contact works for
first and last names and their company's domain
LinkedIn URL
email
Save Excel Spreadsheet as CSV file

▶ Don't have the required data to perform a bulk lookup? No problem, generate a list from scratch using our Company List Generation Tool. Learn how to generate a contact list from scratch HERE


Bulk Lookup Guide & Success Rates

Step 2: Go to the Bulk Lookup Page on your Account:
When logged into your account, click on the 'Bulk Lookups' Tab at the top of your screen.

Step 3: Select 'People' >> Upload CSV or Paste LinkedIn URLs
To initiate a Bulk Lookup, you will need to have enough lookup credits available in your account to begin. For example, if you have 100 rows of data in your CSV file, you will need 100 lookup credits in your credit balance to begin. To purchase a plan, visit the Pricing Page from your account.

If you are subscribed to a paid plan and do not have enough credits remaining in your balance, RocketReach will also give you the option to purchase Additional Lookups prior to running the file as well.

To start a bulk lookup, select Upload CSV or Paste List (LinkedIn URLs only) from the List Gen page.

Option 1: Upload CSV: to upload your CSV file, simply select the CSV file saved on your computer.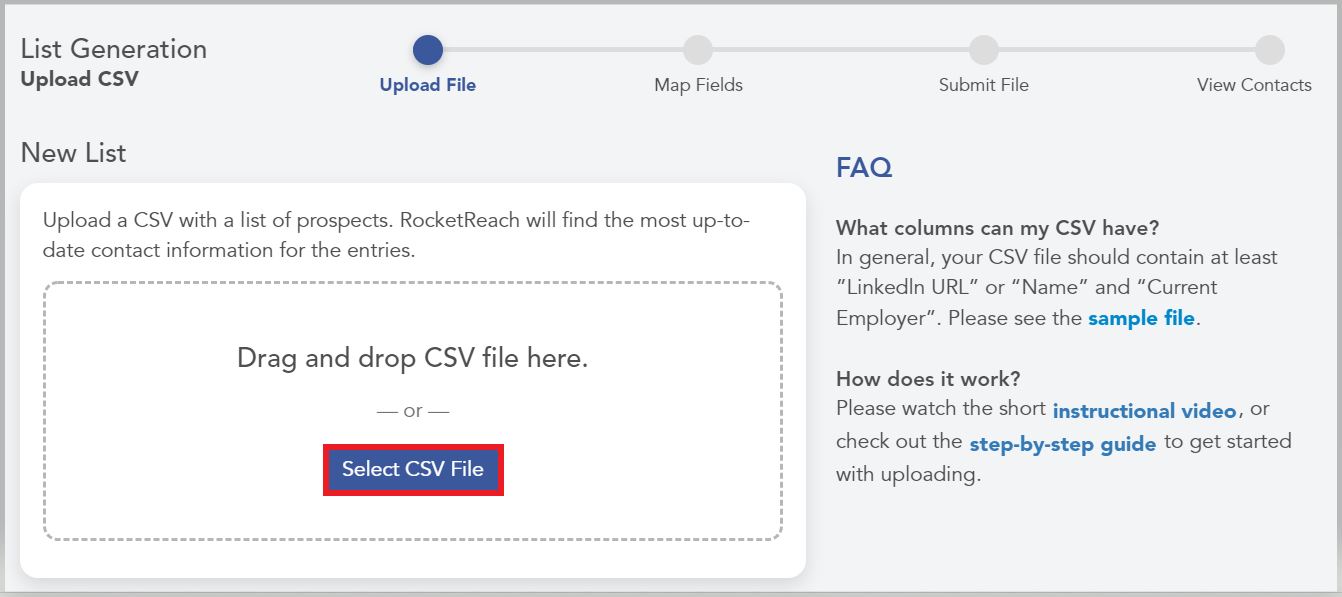 Option 2: Paste List, simply paste a list of LinkedIn URLs in the empty field and click 'Next'.
Note: LinkedIn Sales Navigator and Recruiter Links will not work with our Bulk Lookup tool.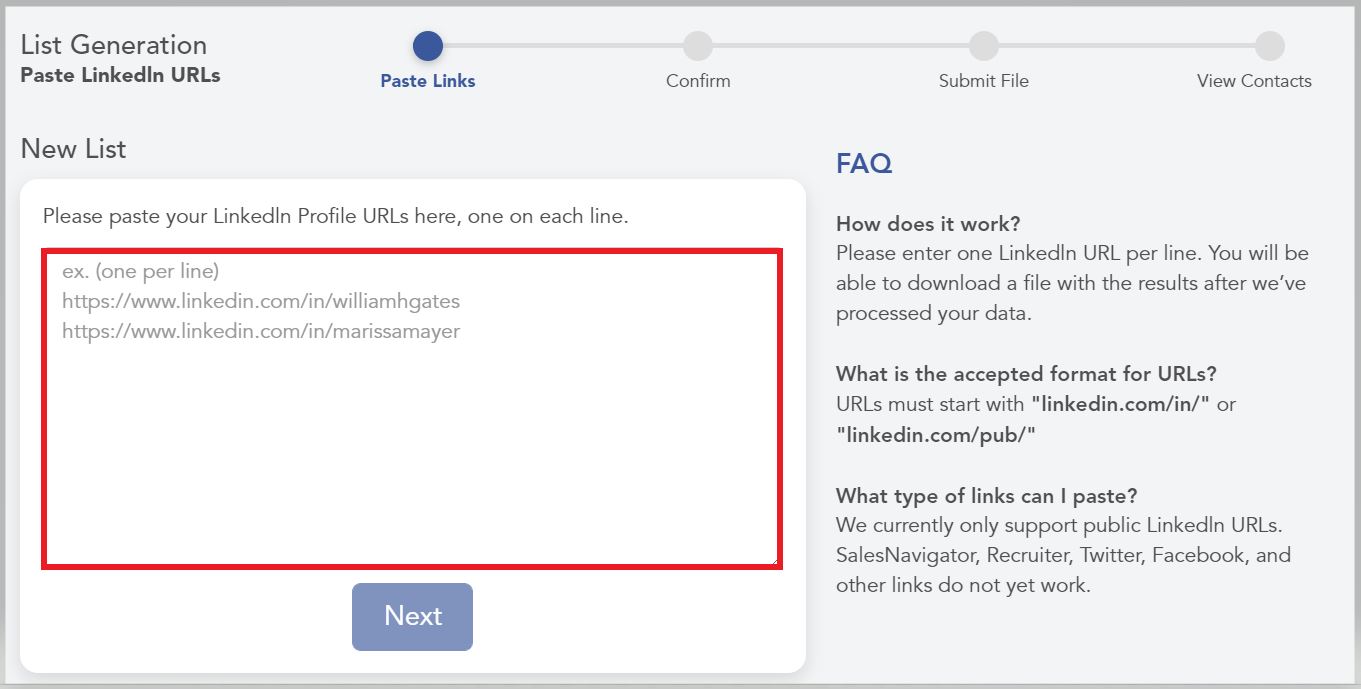 Step 4: Verify your Data
For each data set column, select the corresponding 'type' of data from the drop-down list to help the system parse the data. In most cases, the system will auto-populate the type based on your column headers. Make sure you are reviewing the type selected before clicking 'Verify Data.'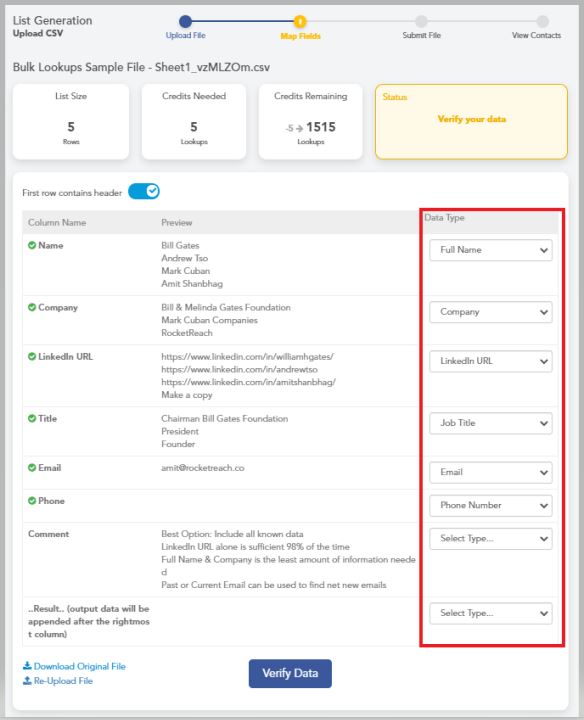 Step 5: Analyzing...
Once you have verified the data in the uploaded CSV file, the system will analyze the data to confirm the bulk lookup will be successful.


This process should only take a few moments and may vary depending on the size of the file uploaded to the tool.


Step 6: Process File
Once the system has analyzed the CSV file uploaded to the Bulk Lookup tool, you will be provided the option to Process the file.


Step 7: View Contacts / Download Results
Once the bulk lookup is complete, you will be able to view the found contacts directly on your RocketReach account or Download the Results (data) to a CSV file to upload to any CRM, or SaaS of your choice.
Step 8: Viewing Contacts on RocketReach
Each Bulk Lookup will create a separate list found on your 'My Contacts' page. From this page, you can export the contact list at any time or use our Compose feature to send emails directly from your RocketReach account.