Person CSV Bulk Lookup
Need to find email addresses for specific prospects? If you have a starting list of 10 or more, you can quickly find the current contacts in bulk using the Upload a List feature. Prepare your data as a CSV file, then go to https://rocketreach.co/upload-list and upload to begin an automated search.
Video Demonstration
Step by Step Instructions
Before Beginning
Uploading a list is a type of lookup. Since lookup credits are used whenever RocketReach provides you with verified contact data, please plan ahead and ensure you have enough available lookup credits. For example, if you have 100 names, uploading that list may use up to 100 lookup credits.
To purchase a plan, visit the Pricing Page from your account. If you are subscribed to a paid plan and do not have enough credits remaining in your balance, you can upgrade plans or enable overages.
Step 1: Prepare a CSV file
For best results, download our sample CSV file as a guide for how to prepare your data. Open the sample file in your favorite spreadsheet app -- such as Microsoft Excel, Apple Numbers, or Google Sheets -- and add your data to the appropriate columns.
📌 As you fill out the data, please remember each row should have info for one (1) person. If you have info for 8 people, you will have 8 rows (plus the header row).
Your starting data must include one or more of the following sets:
First and last names and the company name where the person works
First and last names and their company's domain
LinkedIn URL
Email address (past emails and bounced emails are ok)
▶ Don't have the required data to perform a bulk lookup? No problem, generate a list from scratch using our Company List Generation Tool. Learn how to generate a contact list from scratch HERE
Bulk Lookup Guide & Success Rates
How to Save as CSV in Excel

Step 2: Go to 'Upload List'
Open the RocketReach web-app and make sure you're logged into the correct account. Then from the left-hand menu select the option 'Upload List' or open this link: rocketreach.co/upload-list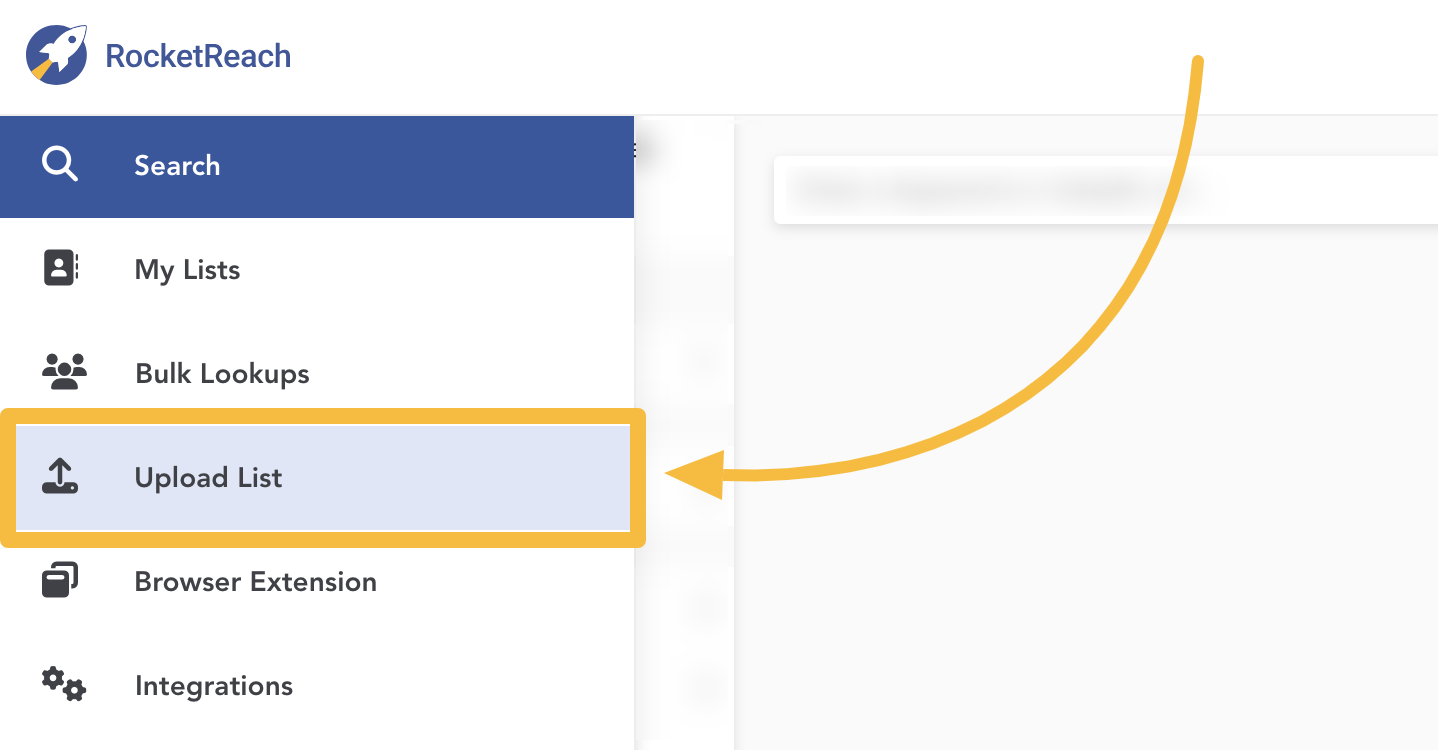 Step 3: Select 'People' and Select 'I have a CSV to upload'
Follow the on-screen guide to select people as your starting data type, and CSV as your data format.
"I have a CSV to upload"
When you select this option, click 'Next' on the bottom right to proceed. On the next screen, you can drag and drop the CSV file from your computer, or click 'Select File' to search for the file on your computer.
RocketReach will quickly inspect the file and show you how many rows were identified. The number of rows found should match the number of people you are searching. This will also be the maximum number of credits that may be used.
"I'd like to paste a list of LinkedIn URLs"
When you select this option, a field will expand. Click in the field and paste the LinkedIn URLs, making sure each URL is on its own line.
Note: LinkedIn Sales Navigator and Recruiter Links will not work in this tool.
Step 4: Map Your Fields
For each column of the CSV, check that the correct type 'Data Type' is set. The 'Data Type' refers to what info in RocketReach will be compared to the info from the CSV.
In most cases, the system will auto-populate the type based on the CSV column headers. If necessary, click the dropdown and select the appropriate option.
If the column's data type is not available in the dropdown options, then leave it as "Select Type" and the column will be ignored. For example, if your CSV column is location info, this is not a mappable option so the 'Data Type' column should be set to "Select Type".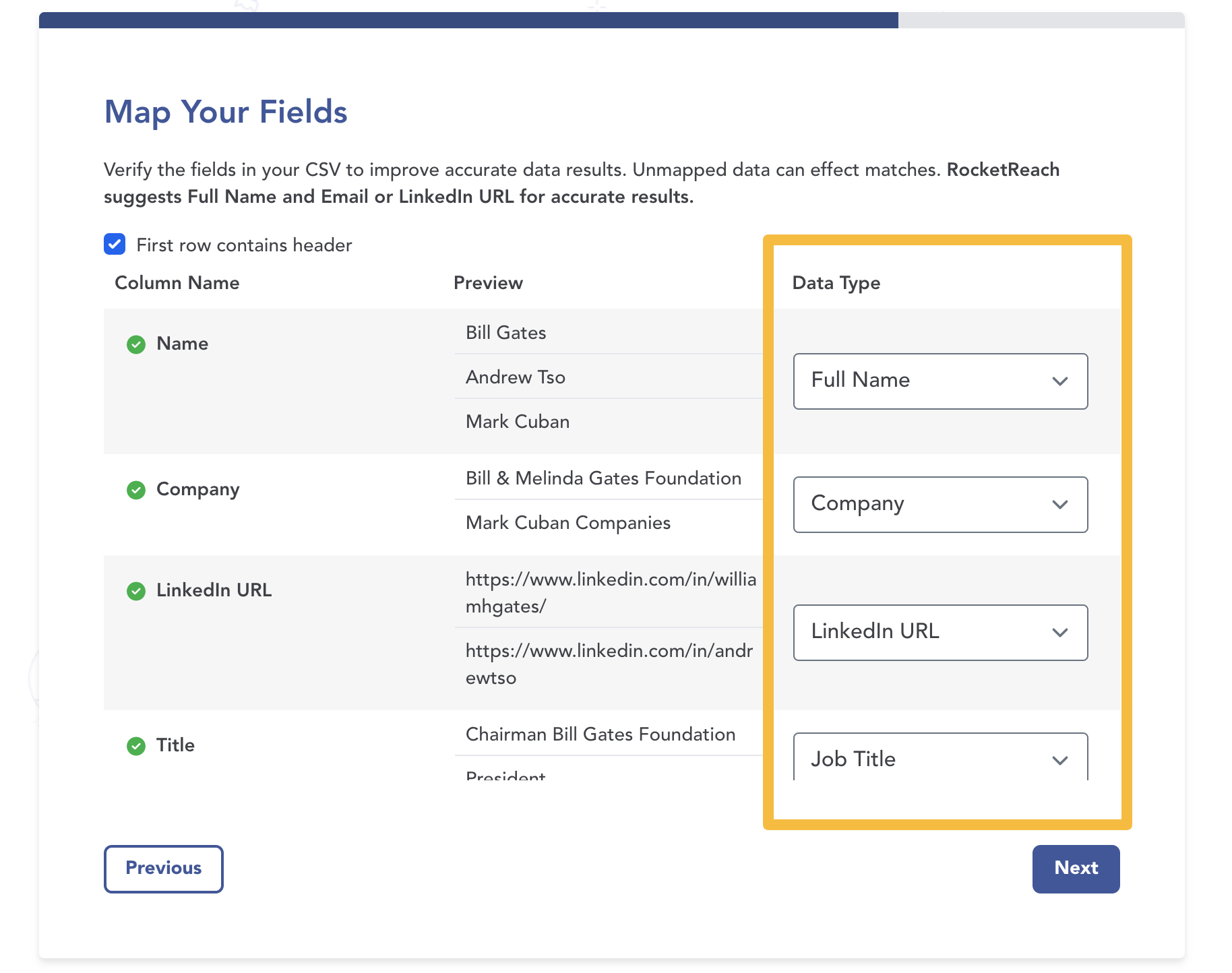 Step 5: Processing...
Once you click 'Next' from the previous step, RocketReach will begin to process each row of the CSV. First we search to identify the best match, then we lookup and verify the current contact info.
This step may take a couple minutes depending on the size of your file. You can close the page or navigate away and it will not affect the data processing.
Once all processing is complete and your contacts are ready, a green "Completed" indicator will appear on the page.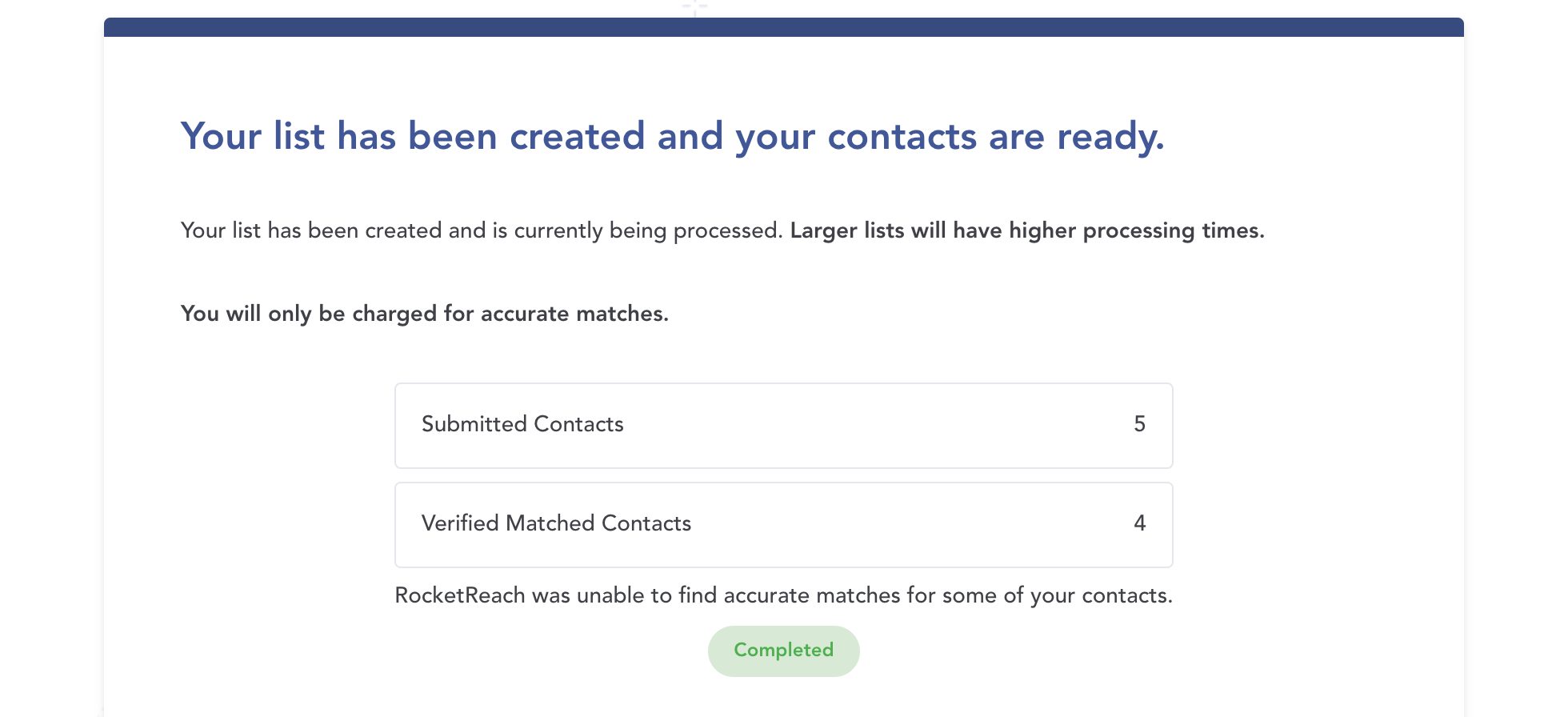 Step 6: View Contacts / Download Results
Once the processing is complete, you will be able to view the found contacts directly on your RocketReach account ('Go to List') or download a CSV file to upload to any CRM or emailing tool.

Step 7: Viewing Contacts on RocketReach
Using the Upload List tool will automatically create a contact list in your 'My Lists' area. From this list page, you can export the contact list at any time.